Hi Classmate;
The 50th Reunion Is only two weeks away!
With only two weeks to go, we are sitting at 85 total attendees for the Saturday night event at the Crowne Plaza. There is still time for last minute signups to get in on the fun:
http://www.68whs.com/Reunion/50th_Reunion/50th_Reunion_Summary.html
Our Friday night "pot luck" event at French Park has 35 classmates signed up. This is the less formal event that is similar to the gathering at the 45th reunion at the WYC clubhouse. Even if you can't make any of the other events, there will be lots of classmates that would love to see you. It's casual and all are invited. We hope all is going well with you and very much hope to see you at our 50th Class Reunion! See who is attending:
http://www.68whs.com/Lists/Lists_Attending_50th_Reunion.asp
At the Reunion…
The Saturday night event at the Crowne Plaza is casual dress and we will have a sit-down buffet-style dinner along with a cash bar and dessert. Rumor has it that there may be some dancing and music! Everyone attending will get a chance to try to match the faces (after 50 years) along with the pictures on the badges. Each reunion, the differences are more interesting than ever. We plan to have a story wall and will have posters of every grade school class during our time as students at Wayzata. While we know most of the people in the photos, there are still some mystery grade-school buddies that we haven't managed to identify.
Everyone will receive a printed directory of the most current information that we have for each of our class with complete contact information. We have not made one of these for many years, so here's your chance to find some of your friends that you've lost touch with.
One of life's mysteries: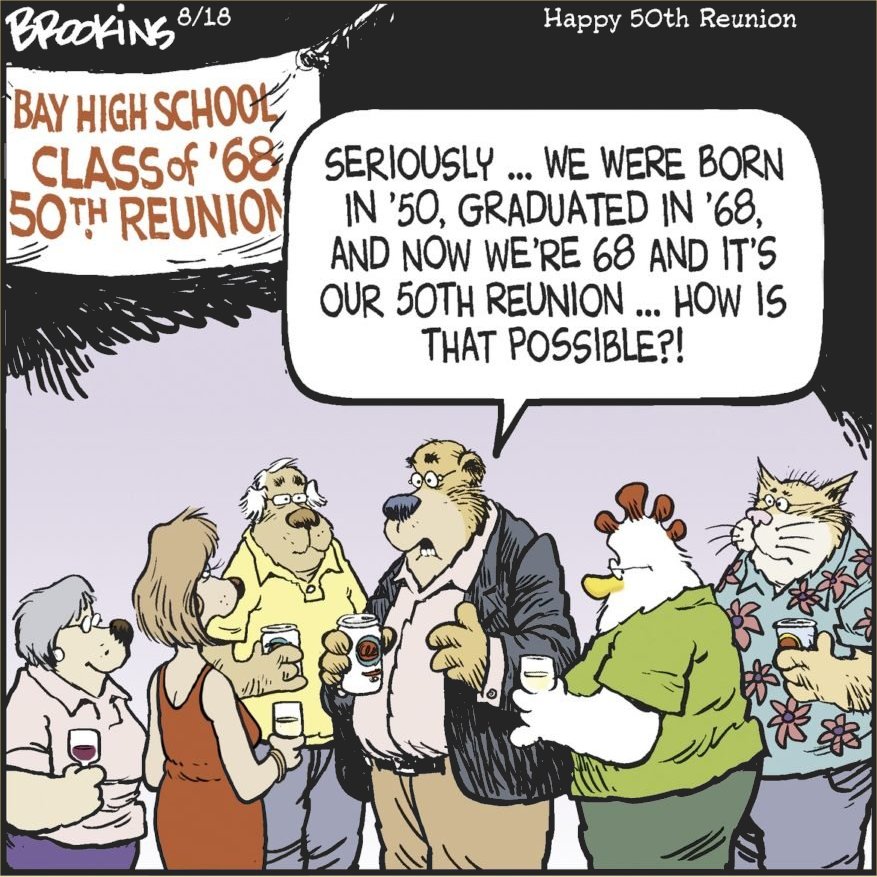 Where are we after 50 years?
It's great that we are still in touch with 175 or our classmates, which is an accomplishment after 50 years. Sadly we've lost some of our friends, too and we will give them their own spot at the event to remember them.
Here are the most recent figures of classmate status:
Confirmed Info on (175) Classmates - (65%) (Recent contact)
Unverified Info on (16) Classmates - (5.9%) (Data is up to 5 years old) Outdated Info for (34) Classmates - (12%) (Data is more than 5 years old) Mail Undeliverable (10) Classmates - (3.7%) (Most recent address is bad) No information for (26) Classmates - (9.6%) (Missing since HS)
(165) Classmates with current Email Address - (61.3%)
(38) Classmates Deceased - (14.1%) (From available information)
If you can't join us…

Drop us line, send us a photo and we will share it with everyone. Send to: wayzata1968@gmail.com We will take some photos over the weekend and get them posted to our website sometime after the event. We may even try to live-stream some video. Do you have any memorabilia or old photos to share? Please send it to us so that we can share it.
It's not too late, but the clock is ticking………
We know that there is no better time than the present to decide to join us. The more, the merrier! We are all 50 years older and wiser, so you're on equal footing with the rest of us! Simply visit our reunion pages and sign up. Need help or have a special request? Let us know and we'll try to assist:
http://www.68whs.com/Reunion/50th_Reunion/50th_Reunion_Summary.html
Thanks for helping us stay current by keeping your contact information up to date.
Thank you to all of the donors below, in no particular order, that have generously helped make sure that the 50th reunion could happen. (I hope that I have them all…)
| | | |
| --- | --- | --- |
| Pat Bauer | Jeff Walton | Jake Cadwallader |
| Tim Hawthorne | Dave Holst | Bonnie McCannel |
| Tim Garbett | Janice Keller | Dusty Macgregor |
| Pete Gordienko | Bob Simmons | Norm Bendickson |
| Mike Leviska | Jeff Lambert | Louise Nelson |
| LeAnn Schaetzel- Hawthorne | Debbie Deupner | Wendy Raun |
| Valerie Barnett | Jim Erickson | Bill Scheller |
| Julie Laven | Mark LaBerge | Bill Martin |
| John Palmer | Steve Feig | Jim Wicklatz |
| Marcelline Hansen | Don Anderson | George Magdal |
| Margaret Harder | Bruce Wagner | Sandy Nalls |
Want to give us some last minute help?
Our last committee meeting for volunteering to help with the different tasks is Monday, September 10th at the Wayzata Muni. 6:00 PM. Come ready to volunteer.
Best Regards on behalf the Reunion Committee,